Here's a picture of Dog. He's half black lab and half chow. He's a gentle dog.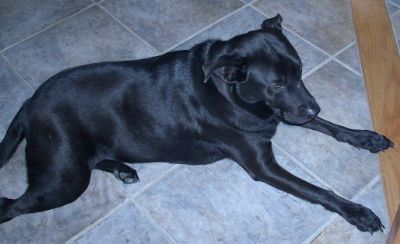 The tiles are 18 inches square so you can get an idea of the size of Dog. His name is Little Dog, but I just call him Dog. You can tell by his name there used to be a larger dog. This one is just mid-sized.
Anyway, Dog and I were sitting on the back patio and we heard a noise. There are stairs to the deck on the patio, and under the stairs is a closet. It sounded like something was in the closet. I got a golf club from the garage and looked in the closet.
While I was looking in the closet Dog was standing behind me. He's very protective.
I saw a bunch of small animal pellets so I figured a packrat had moved into the closet. I set up a trap, and two days later I caught him.
Here's a picture of the packrat: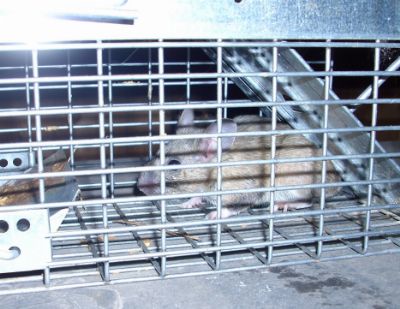 The next night, Dog and I were sitting on the patio and Dog whined then went inside. In order to go inside, he went around the yard and used his doggie door.
That's unusual. Maybe another packrat?
Nope. Not a packrat. It was a spider.
Here's a picture of the spider: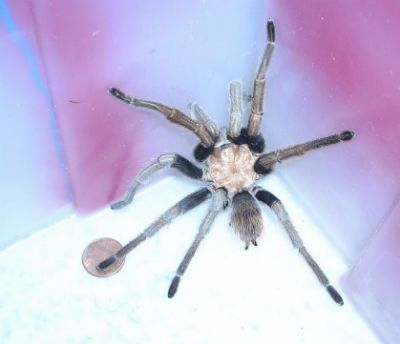 That's a penny so you can get an idea of how big the spider was. I like spiders, just not on the patio or in the house, so I let him go in the front yard. After I moved the spider to the front yard, I went looking for Dog.
I found him in the bedroom.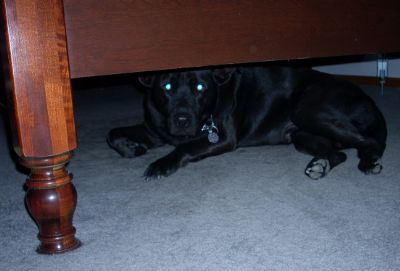 He was hiding under the bed.
Also in the backyard are a dozen turtles. They are box turtles. They are in a 20 by 50 foot fenced area so Dog doesn't play with them.
The turtles eat ground beef and Dog always likes to look in at them to see what they are doing. I think Dog's jealous because he doesn't get ground beef.
Here's a picture of a turtle: