I was down in Tempe last month and saw the train cross Mill Avenue for the first time.
This is the Valley Metro Light Rail commuter train that goes from nowhere in the east - actually East Valley Institute of Technology, to Nowhere in the west - where Christown used to be. Between those two points the train disrupts a lot of traffic.
I go to Tempe frequently, and the new Tempe train station is right where I used to park. Recently the builders brought the train through slowly. They ran it from one end to the other and checked clearances and other details.
The train sat in the Tempe Light Rail station for about an hour as workers crawled all over it. Here's a picture of the train in the Tempe Station: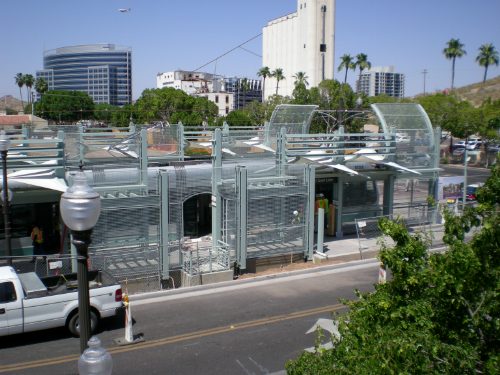 After a long while the police closed off Mill Avenue and the train darted across.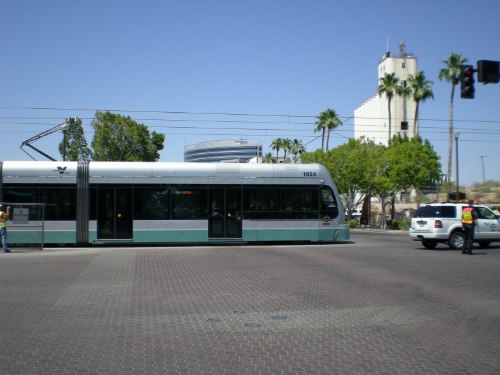 You can see the Hayden Flour Mill in the background.
They took the train back and forth accross mill avenue a few times. Here's a shot of it coming back across from the east.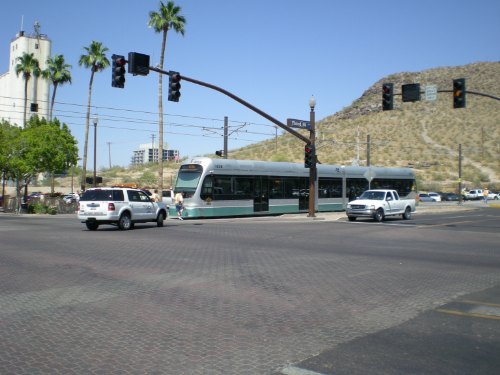 There are some BIG bumpers on the train. I guess they'll need them for all the cars they'll be hitting until drivers learn to watch for the train.
I heard the train will be back in Tempe for the July 4th weekend. I also heard it won't be.
I heard the Train would be running regularly by December 2008, and also heard it will be 6 months late due to needed repairs of poorly constructed track.